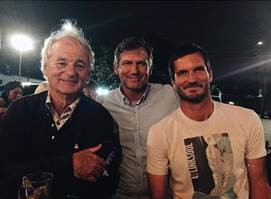 When golf wasn't cool in the 80's John Ashworth brought out a clothing brand that literally changed the game. At a time when Nike, Adidas, Under Armour, Polo and so many more didn't care about golf and were not even selling into the golf channel. One man poured his passion into the game to change the outlook of the public that golf could be cool. Now he's partnering with his nephew and Bill Murray to bring back that cool he's always been so good at with Links.
Clothing brands were all using Polyester in the 80's and one John Ashworth could just not wear it so he wanted to come out with a cotton rich brand. After realizing he would not make it on tour he decided to throw his energy into making clothes and making golf cool and the rest is history. Check out the below world of golf in the 1983, 89 Ryder cup team uniforms. This is what was going on and why he needed to change the game.
Flash forward to today where he continues to pour himself into his LINKSOUL clothing brand and the game of golf. Helping save a down trodden golf course in So-Cal by turning it into a Scottish type cool way of life golf course. No dress code required. Goat hill is slowly becoming a big part of that feel of golf that we so need today.
At the last minute John threw together the Wish Bone brawl on Thanksgiving at Goat Hill all for charity pitting:
Xander Schauffle vs Charley Hoffman (Xander was a last minute sub in for Mike Weir who couldn't make it but wanted to)
Dean Wilson vs Chris Riley
Players played with t-shirts and bare feet and persimmon woods made by Linksoul
Launching Persimmon woods at a time when golf manufactures would NEVER think of bringing out anything this old school.
Instituting MANDATORY GOLF FRIDAY.
The Celebrities are flocking to the brand with great motto's like "Make par not war".
Golf is so much more then just a game… It's a lifestyle and John Ashworth is the innovator who has really taught the world this. It's your turn to check out what his new project is and become a #LINKSOULDIER
Finally…. FRESHLY ARRIVED IN STOCK FOR *****CANADA***** ONLY
LS1180 Black/Grey Heather and LS1206 Black/Graphite
Both are $99.99 retail
Contact us for the corporate catalogue.