Merry Thanksgiving! What???
Picture this. It's Christmas time in the office. Everyone is dropping off beautiful gifts and cards to thank you for all your hard work throughout the year. The boardroom table is covered in treats and gifts so plentiful that nobody can possibly eat any more or unwrap anything else. The final gifts brought in at the last moment before the office closes for the holiday get pushed off to the side, and forgotten until everyone returns in the New Year. By then, everyone is so tired of the excesses of the holiday that these gifts get put in a pile and dealt with later.
Often they are totally forgotten…

We don't want these beautiful gifts to go unnoticed any longer.
It's cruel and inhumane. It's time to stop this unfortunate time of year when best intentions are not being appreciated. That's where we can help.
We want to change the way people think. We want your thoughtful thank you gifts to be overwhelmingly accepted. In fact, we want the recipient to be totally surprised when they receive your wonderful gift. How do we do this you ask?
Simple. Change your way of thinking. Step outside the box. Be unque. Hand your Christmas gift out at Thanksgiving. Yes, I said Thanksgiving. Nobody is expecting a gift at this time of year, so it will be a complete surprise and because it will be the only gift that they receive, it will be fully appreciated. And it ties in perfectly with the meaning of the holiday where we give thanks. It's what we do. And every year, our clients love it.
In honor of Canadian Thanksgiving which is this upcoming weekend, a huge "Thank You" to all our clients, partners, sales and admin team, friends and family who help make Level 2 Sportswear who we are. We couldn't do it without you.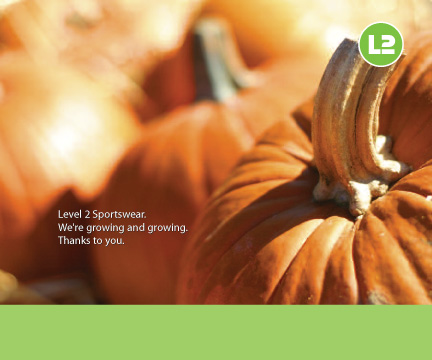 ---
Where do you go when you need special, unique and creative promotional items? The team at Level 2 Sportswear is waiting for you. We will work with you to source the perfect promotional product, trade show giveaway, corporate gift, or to develop a safety and service award program that your employees are sure to love.
OUR GOAL IS TO MAKE YOU LOOK GOOD!