Are you sure your marketing plan has all the right components?

Marketing budgets are a very important piece of the annual budget for every company, large or small. If nobody knows about your business, how can they find and use your services or products?
As you know, there are several types of marketing mediums. Some examples are TV, radio, newspaper, brochures, websites, catalogues, flyers and mailers. As I have worked in the advertising and marketing industry for years, I know that all of these items have merit, and based on the decisions of your marketing team, you will need to determine the marketing mix that is best for your business. Choosing a variety of mediums works best, because it allows you to target a larger potential customer base.
Each company will have a different mix based on their budget, and their customer base. However, no matter the type of business, there is one marketing medium that should always be included in your budget. Promotional products. They can also be called ad specialties, swag, premiums, freebies, or logoed items. No matter what you call them, they're something that should be a part of your marketing plan.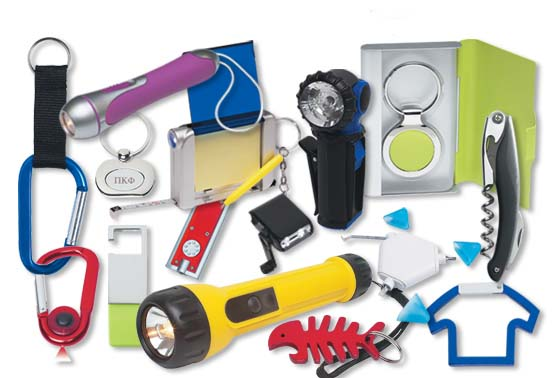 Promotional Products are a cost effective way for you to get your name out in a fun and thoughtful manner. They can be inexpensive and are generally something that will be held onto by the customer.
Promotional products will usually be saved as long as the recipient feels that it has value.
Don't think that promo items are exclusive to trade shows and events. They are used in a multitude of ways – logoed clothing for staff, corporate gifts, uniforms, golf tournaments, safety award programs, staff awards, and team activities.
Promotional items can be found in any imaginable price range, quantity, color and size. Items can be fun, quirky, thoughtful, educational, functional, valuable, and most importantly useful. And they will have your logo/website on them, which means that they will be looking at your info on a regular basis.
Having your company name first and foremost in the consumers mind will ensure that they consider your business when it comes time to make a purchase.
When working with your promotional product specialist, ensure that they are helping you to find the exceptional items, something that will really stand out. Something that really speaks to who your business is. The items are out there, and they will serve you well. Promo items should be considered a primary source of advertising, and not an additional expense. Plan to include promotional products in your annual budget. Having the right items will be a huge benefit to your business.
---
Where do you go when you need special, unique and creative promotional items? The team at Level 2 Sportswear is waiting for you. We will work with you to source the perfect promotional product, trade show giveaway, corporate gift, or to develop a safety and service award program that your employees are sure to love.
OUR GOAL IS TO MAKE YOU LOOK GOOD!