#MakeSomeNoise For Mental Health!
SAIT's athletes have been involved in volunteering and community citizenship programs since 1997.
Each year, the athletes and teams get involved in more than 30 clinics, fundraisers and charitable events as part of the Trojan Outreach Program with student-athletes serving as positive ambassadors, role models, and leaders within the community.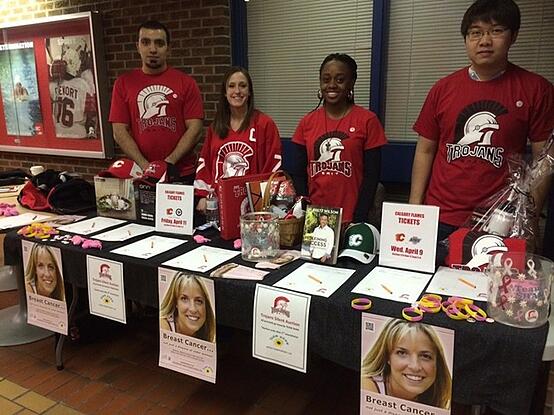 SAIT STUDENTS HELPING OUT.
In 2015, as a new initiative, the Trojan Outreach Program is promoting a new mental health awareness campaign called "Make Some Noise For Mental Health".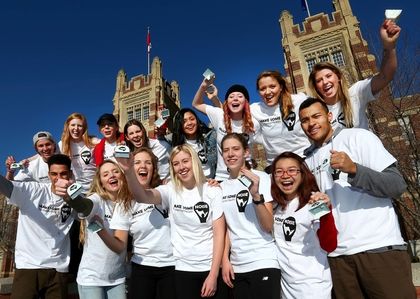 MAKE SOME NOISE!!
The campaign is geared to encourage conversation and open-mindedness about mental health, helping to change the stigma surrounding mental health issues. The Outreach Program wants student-athletes to be aware that help is always available both within and outside of SAIT's campus.
Keeping up with the pressures of school life can be especially hard for post-secondary school athletes, who deal with the additional stress of maintaining their game as well as their grades.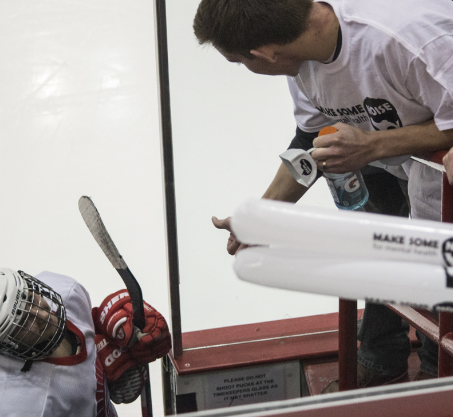 CHEERING ON SAIT HOCKEY PLAYERS
#MakeSomeNoise did just that, they got out and made sure everyone heard them! Groups of students and supporters went to several SAIT sporting events in January and February 2015, armed with noise makers and cow bells, and cheered on the athletes. They provided some much-needed awareness for mental health. Attendees to these events also received noisemakers and had the opportunity to win "Make Some Noise" t-shirts.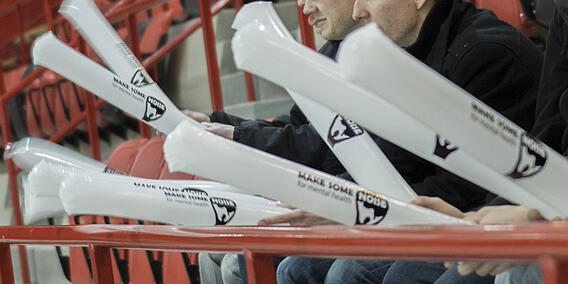 At the same time, the program ran a social media campaign, encouraging the use of #MakeSomeNoise hashtag on Twitter, Instagram and Facebook to promote the initiative.
The SAIT Trojan Outreach Program has been involved in numerous charities including Breast Cancer Awareness Month, Movember prostate cancer research and prevention campaign, Wellspring Calgary's Toupee for a Day cancer fundraiser, Underwear Affair run, walk and fundraiser for cancers below the waist and Enough is Enough cross-country bike ride to battle youth depression. Congratulations on the success of the Make Some Noise campaign!
How does Level 2 Sportswear fit in to all this you ask?
Level 2 provided all the noisemakers and shirts for the Make Some Noise campaign. It goes to show how a few inexpensive promotional products can make a huge impact and help to bring attention where attention is needed!
Level 2 Sportswear feels that it is very important to lend a helping hand as there is always someone who needs assistance getting to the next level. All the employees at Level 2 participate in various charities and community volunteer opportunities throughout the year, and believe it is important to recognize future community leaders who will continue this trend.
The SAIT Trojans have an annual awards gala for their athletes. As part of this awards night and scholarship program, Level 2 donated $5,000 in scholarships to student-athletes who both succeeded in their sport as well as donated time through their various community programs.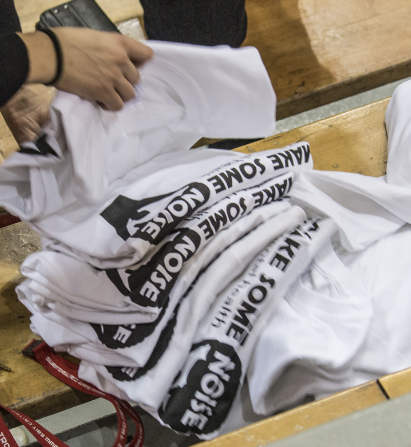 ---
Where do you go when you need special, unique and creative promotional items? The team at Level 2 Sportswear is waiting for you. We will work with you to source the perfect promotional product, trade show giveaway, corporate gift, or to develop a safety and service award program that your employees are sure to love.
OUR GOAL IS TO MAKE YOU LOOK GOOD!